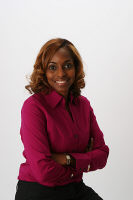 Jean was born in Philadelphia, Pennsylvania, and started writing at age six. She grew up in a tightly knit community of richly flawed matriarchs harboring sordid secrets while living with resilience and fortitude. Bearing witness to their transgressions, hopes, dreams and tragedies, she drew inspiration for her work. She has long dreamed of crafting stories that resonate the beautiful brokenness of the human condition, and her dream has come to life.
In addition to The Fruits of Our Sins, she has written two short stories: Stella's Silent World and When the Bough Breaks. Her own personal narrative was featured in Sister to Sister: Black Women Speak to Young Black Women.
Jean is an avid reader who enjoys musicals, woodworking, traveling, and spending time with her family. She lives in a suburb of Philadelphia with her husband and three children and is happily working on her next novel.